http://www.chasingray.com/archives/2011/08/only_the_third_holocaust_title.html?utm_source=feedburner&utm_medium=feed&utm_campaign=Feed%3A+ChasingRay+%28Chasing+Ray%29
Because I always knew Hansel & Gretel was a Holocaust story
: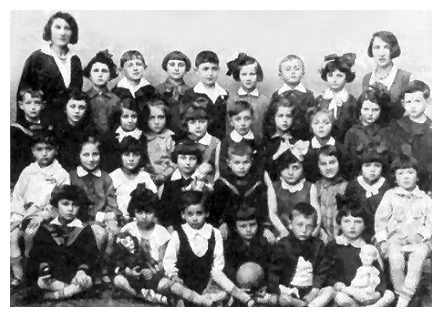 I have a very high standard when it comes to reading about the Holocaust. This is not because I am personally connected to it in any way (while I had many family members fight in WWII we are not Jewish or from western Europe) (although the jury is still out on my one great grandmother's origins so this could actually change but she emigrated in the late 19th century) (more on that subject later).
Part of what bothers me about most Holocaust books (especially those written for kids and/or teens) is that they are so manipulative. The novels in some ways are the worst as they use the backdrop of a global atrocity to wring emotion out of readers that they would not receive otherwise. (Yes, I'm talking about a striped pajama boy here.) I also think we have reached a saturation point on the subject to a certain degree. I say all this just to make you understand that a Holocaust book is a very hard sell for me. The only two that have truly stayed with me over the years are Anne Frank's Diary and
BRIAR ROSE
by Jane Yolen. (Better than DEVIL'S ARITHMETIC in my opinion - although that is very good too, of course.) Then over the weekend I finally read
KINDERGARTEN
by Peter Rushforth and it was simply one of the most impressive books I have ever read. Period.
Rushforth approaches his subject from the side - there's almost a WG Sebald type feel to how he tells this story. The protagonist, "Corrie" (for Cornelius) is a 16 year old British boy in 1978. He and his two younger brothers live in the countryside with their father, headmaster of a nearby boarding school, in a house next door to their grandmother. The book is set over the Christmas holidays the same year that the boys lost their mother in an airline hijacking in Rome. Their father has gone to the US for a fund raising drive to help terror victims organized by other families of those on the plane and thus the boys are with their grandmother, who was originally born in Germany but lived in England since just prior to WWII. When she was younger, Lilli was a renowned artist of fairy tale paintings. She stopped painting after moving to England but lately her work is receiving some new appreciation. Over the years she has given the family some of her old work and Corrie has a picture she did for Hansel and Gretel on his bedroom wall. The painting and the German poem "Kinderstimmen" by Joseph von Eichendorff have inspired Corrie, a talented musician, to compose a song. His ongoing work on the piece is what prompts much of the book's ruminations on "Hansel and Gretel" and other fairy tales of lost children.
At the family settles in for Lilli's traditional German Christmas celebration, they are also riveted by another terrorist nightmare going on in West Berlin. A group has taken over a school and promised to start killing children if some of their comrades are not released from prison. The authorities, of course, are refusing to do so. The standoff is being covered on the television and has caused the boys, already missing their mother so much, to mourn her anew.
For Corrie, all of this, his own now motherless siblings, the lost children in the fairy tale, the children in the school, is powerful stuff. He and his brother Jo have fallen into a habit of comedy to cope with their sorrow but both are aware of how deep their feelings go. Jo in particular is struggling mightily and Corrie wants to help him but is not sure how. To keep himself distracted he has become obsessed with a cache of old files he has found in the school's music room where he goes each day to work on his composition. (The school is empty for the holidays but he has his father's keys and permission.) The letters are from German Jewish families who desperately tried to send their children to the school in the mid to late 1930s. At first they went simply to continue the education that was then denied them in Germany but increasingly the letters became more and more emotional as the parents lose access to the money they need to pay tuition and fees but their need to keep their children out of Germany only intensifies. At one point Corrie reads a letter from a little girl who was homesick and after the holidays has decided not to return to school. It is 1938 and her family decides to seek shelter in another country. Rushforth writes:
In October a postcard had come from the Goetzels saying that they are safe in Amsterdam, and that was the last communication the family made with the school.
Anne Frank and her family had been German refugees in Amsterdam.
All of this, Corrie's music, Lilli's mysterious past, little brother Jo devastated by his mother's death, the hostages in West Berlin, the letters, spread across the floor in the music room charting the lives and potential deaths of the Jewish children decades before, all of this comes together in a whirl and a swirl that includes excerpts from "Hansel and Gretel" and Lill's final, unsurprising but utterly heartbreaking, revelation about what she left behind in Germany so many years before. Corrie learns just how close his own life is to those he found in the letters and to the children in the fairy tale. And even though you suspected this was coming, on some level, still all of it together is so beautifully written, so wonderfully wrought, that it reaches you in a far deeper way than you expected.
It's like that passage in the Holocaust Museum in DC. It is all very obvious there (of course) with the train car and the compressed passageways to give you the feeling of being forced into a tight space, and the recorded oral histories and the many displays of propaganda and artifacts. But then there is this light filled passage, a bridge actually, you walk across and the walls are lined with black and white photos of all sizes and they stretch up for several stories and they are all of different people in different settings. Happy, sad, group shots, class pics, just standard photos that any album from the 1930s or 40 would have. And then you read at the end that all of these people lived in the same village and all of them -
all of them
- were killed by the Nazis. The village is gone. And so you look back now, you study them more carefully, you consider them for all their sameness to you and yours and in that moment, for me anyway, the reality of the Holocaust hits home. The big number is almost too big to wrap your head around but this much smaller number, this tiny village with all those faces, is one you can see and feel. It is one that makes sense of the entire six million.
In KINDERGARTEN Corrie knows about the Holocaust just as he knows about the Magna Carta and the Battle of Hastings. These are things, he thinks, that every school child knows so they can be ready for test - the dates, the locations, the figures. But reading the letters in the school, getting to know the families through the children who made it out and those who kept trying and then vanished, is what makes the history real to him. Just like the sight of the small girl in the window of the West Berlin school is what terrorism is really all about, just like their mother, just like Hansel and Gretel.
Just like, of course, the story Lilli tells her grandsons in the book's final pages.
Peter Rushforth was a master storyteller, a truly amazing writer. KINDERGARTEN appeared on my radar years ago after a most favorable mention by Terri Windling. I'm so glad I finally read it. As a reader it is amazing but as a writer it is by far one of the best examples of our craft that I have ever come across. Life changing.
[Post pic: The kindergarten of Maria and Roman Ginzberg, class of 1930,
Piorkow Trybunalski, Poland
and photo entitled "Urban Hansel & Gretel" - the person who took it is now lost due to a
dead link
, sadly.]